The best early learning experience
Each class has a team of teachers who have the autonomy to design their own customized and flexible curriculum based on their current class's needs and interests.
Little Cherries is a play-based learning program for toddlers and their caregivers. This is a great introduction for future "cherries" to have fun and learn about our nurturing community.
This combination class is a transition class for your toddler. Parents and children will be introduced to the play-based atmosphere of CHNS as they gain the security and independence needed for preschool. Parents will get to know each other and will see first-hand the benefits of being part of a cooperative nursery school.
The 3s class is often the first introduction to pre-school for children. With more formalized routines, students begin to understand what it means to "go to school" while also learning fun, new concepts that are the building blocks for the 4s and 5s classes.
The 4s class is a fun, dynamic class where students learn through play as well as spending plenty of time outdoors exploring nature. Regular walks and hikes through Mountain Lakes offer more opportunities to extend the classroom outside, teaching kids how to apply classroom ideas in a broader environment. This class has the option for 4 or 5 days per week.
The 5s class is truly a global experience where students learn phonics and pre-k skills through exploring cities, states, countries and continents. Your child learns what it means to be part of a larger community, has fun with geography and is ready to jump into kindergarten after graduating CHNS with necessary pre-reading, writing, and number skills.
Our teachers take turns leading these mixed-age programs. Children enjoy interacting with the teachers and students from other classes and love the opportunity to play in each other's classrooms. Registration for Afternoon Enrichment can be full year or by session if space allows. Past themes include Loose Parts Play, Nature, Cooking, Messy Art, Amazing Athletes, and Soccer Shots.
2023-2024 co-op preschool
Parent has responsibilities in their child's classroom on a rotating basis. Tasks include being a 3rd adult in the classroom (known as the "Helping Parent"), helping set up for the day and clean up at the end of the day, assist with snack, handwashing and other classroom duties as needed. The "Helping Child" gets to be the leader for the day.
Parent opts to not be involved in activities in their child's classroom and pays opt-out fee. The fee exempts family from their PTO volunteer hours and helping parent duties. Every non-co-op child receives a turn being the "Helping Child" in an equal amount of rotation as co-op students but a "helping parent" is not in the classroom on that day.
Open to toilet-trained children enrolled in CHNS's morning 4s and 5s classes. Children may register for Afternoon Enrichment prior to the start of the year or add sessions as the year progresses. Each session is a mixed-age group of up to 16 children. Past themes include Loose Parts Play, Nature, Cooking, Spanish Playgroup, Amazing Athletes, and Soccer Shots.
We welcome kids into our 2-5's program based on their birth year.
Experts in giving your children best start
Ella Stark
Lead teacher and 1-2 year olds
Harriet Bailey
Teacher: 2-3 year olds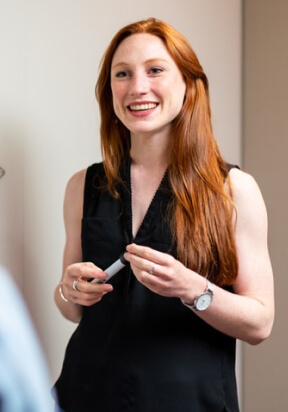 Melinda Schiller
Teacher: 3-4 year olds
Faucibus nulla tincidunt sagittis faucibus proin habitasse nunc erat sed nisi non pulvinar at ante diam nulla tincidunt lectus maecenas penatibus nam suspendisse cursus risus, ac nibh suspendisse
More than just a joyful place
Letting kids develop at their own pace through play